Using a total scientific good quality management process, superior high quality and excellent faith, we get great name and occupied this field for Medical Disinfection, Uv Medical Disinfection Robot, Air Purification Sterilizer, Be sure to never wait to get in touch with us for anyone who is interested within our solutions. We firmly believe that our products and solutions will make you happy.
---
2020 Latest Design Air Sterilizer Machine - Mobile Air Purifying Disinfector AirH-Y600H – doneax Detail:



UV photocatalyst air disinfection machine

AirH-Y600H technical parameters

1)Three disinfection methods: ultraviolet 253.7nm, photocatalyst and high-efficiency filter

2)Photocatalyst technology to sterilize and remove odor

3)Ultraviolet lamp: intensity: ≥110μw/cm², life ≥10000 hours

4)UV leakage: 0 μw/cm² (provide inspection report certificate)

5)Ozone leakage: ≤0.005mg/m³ (30m³ test chamber) (provide inspection report certificate)

6)Disinfection time ≥60 minutes, applicable area ≤20m².

7)In addition to Staphylococcus albicans 60min≥99.92% (20m³ test chamber) (provide inspection report certificate)

8)The rate of removing natural bacteria 90min≥92.0% (70m³ test chamber) (provide inspection report certificate)

9)Anion air freshening technology, anion concentration ≥6*106/cm3

10)The circulating air volume is ≥300m³/h, and the noise is ≤55DB.

11)Intelligent display touch screen control, wireless remote control, simple operation.

12)Automatically detect the filter screen function and remind to replace the filter screen.

13)Product size: height 850mm * diameter 300mm.

14)Packing size: 40cm*40cm*100cm.

15)Product net weight: 13.5KG

16)Full package weight: 20KG

17)Manufacturer quality certification ISO9001

18)Normal working conditions

Ambient temperature: 0℃~40℃

Relative humidity: (30~80)%

Input power: AC 220V 50HZ

Rated power: ≤100W

19)Basic configuration

Main unit: 1 unit; remote control: 1 unit; power cord: 1 unit.
Specification

| | |
| --- | --- |
| item | value |
| Type | Ultraviolet sterilizing device |
| Brand Name | DONEAX |
| Model Number | AirH-B1000N |
| Place of Origin | China |
| Instrument classification | Class II |
| Warranty | 1 Year |
| After-sale Service | Online technical support |
| Application | Hospital Medical Devices |
| Color | white |
| Circulating air volume | ≤ 600m ³ / H |
| UV /ozone leakage | 0μw / cm² , 0.0032mg / m ³ |
| Noise | ≤55DB |
| Ultraviolet lamp | intensity: ≥1 10 μ w / cm ², life ≥ 10000 hours |
| Recommended disinfection time in high wind speed mode | 60 minutes |
| Negative ion concentration | ≥ 6 * 10 6 pcs / cm³ |
| Net weight | 42kg |
| Product size | height 757mm * diameter 300mm |
| Input power | AC 220V 50HZ |
| Rated power | ≤100W  50Hz |
|  Packing size | 40 cm * 40 cm * 1 0 0cm |
Our Advantages

1)Human-machine coexistence, hospital disinfection level, good disinfection and sterilization effect;
2)The disinfection area can reach 150m³, which can easily meet the disinfection requirements of hospitals and homes;
3)Use imported photocatalyst technology to disinfect, sterilize and remove odor;
4)Touch control, smart display touch screen, wireless remote control;
5)Ultra-thin design, can be wall-mounted;
6)Timing start and stop, man-machine coexistence.
Product Description

Ultraviolet upper level flat photocatalyst air sterilizer
The AirH-Y600H ultraviolet photocatalyst air disinfector, produced by our company, is mainly to quickly disinfect and purify the air in the room to obtain clean air. Under the action of the DC motor, the indoor air passes through the air inlet panels around the lower part of the machine, and then passes through the junior and medium efficiency filters, HEPA composite filter elements, ultraviolet rays, photocatalysts, and activated carbon filters, and the clean air is evenly distributed through the upper air outlet into the room. The negative ion generator near the air outlet releases negative ions into the room, making the clean air more fresh. This product provides a safe, fast, and efficient method of air disinfection and purification, which can greatly reduce the microbial load in the air environment of medical and health units and reduce the infection rate (HAIs) of medical and health units.
1)Efficient filtration, sterilization and dust removal: the physical filtration method in the air laminar flow cleaning technology is used to remove dust and pathogen in the air, while effectively preventing the influence of dust on the ultraviolet sterilization strength of the machine.
2)Ultraviolet sterilization: This disinfector scientifically uses ultraviolet short-range instantaneous sterilization technology, uses ozone-free ultraviolet sterilization lamp, and the indoor air is circulated through the sterilization chamber under the action of the fan to achieve the purpose of sterilization and disinfection.
3)Photocatalyst: Photocatalyst sterilizes and removes odor, greatly improving the air quality.
4)Negative ions: high concentration of negative ions, the air is fresher and healthier.
The product main purpose
The AirH-Y600H UV photocatalyst air disinfection machineor produced by our company effectively removes various fine particles in the air through a high-efficiency filter , quickly kills harmful pathogens in the air through UV and photocatalyst , removes some odors in the air, and passes through the air outlet with negative ion purification to produce clean, fresh and healthy air, which can greatly reduce the microbial load in the air environment. It is suitable for all kinds of environments such as hospital general operating room, delivery room, premature baby room, supply room, burn ward and intensive care unit. Air disinfection, and suitable for indoor air disinfection in industries such as pharmaceuticals, food, schools, and public places.
Technical Principle The air disinfection machine is composed of air filter components, ultraviolet disinfection components, photocatalyst disinfection components, air circulation components, control module components, cabinet components, internal structural components, etc., using circulating air, ultraviolet sterilization principles, and photocatalyst disinfection and sterilization to remove odors. The indoor air is continuously disinfected and purified.
Features:
1) Innovation: Innovative use of a combination of filter disinfection technology, ultraviolet disinfection, and photocatalyst
disinfection technology can not only quickly disinfect the air, but also purify the air, remove odors in the air, and maintain a clean and fresh air environment.
2)High efficiency: The circulation method of surrounding air inlet, concentrated air outlet, and a variety of disinfection
methods make disinfection fast and efficient.
3)Safety: Fully automatic disinfection without manual intervention, safe and reliable, coexistence of man and machine.
4)Convenience: a variety of working methods, a variety of timing methods.
5)Intelligent: Intelligent detection of lamp energy and life, filter life, intelligent touch panel.
6)Mute: Special isolation and mute working mode, no noise interference factors.
Scope of application
1)Suitable for key areas such as operating room, ICU, treatment room, etc.
2)Burn ward, premature infant's room, baby room, hemodialysis room, supply room, etc.
3)Suitable for disinfection in areas such as pediatrics, fever, infectious diseases, and spaces with high population mobility
4)Public areas with dense population and high mobility, such as kindergartens, schools, office halls, etc.
Configuration list

Name
Quantity
Host
1 set
Controller
1 piece
Power cord: 1
1 piece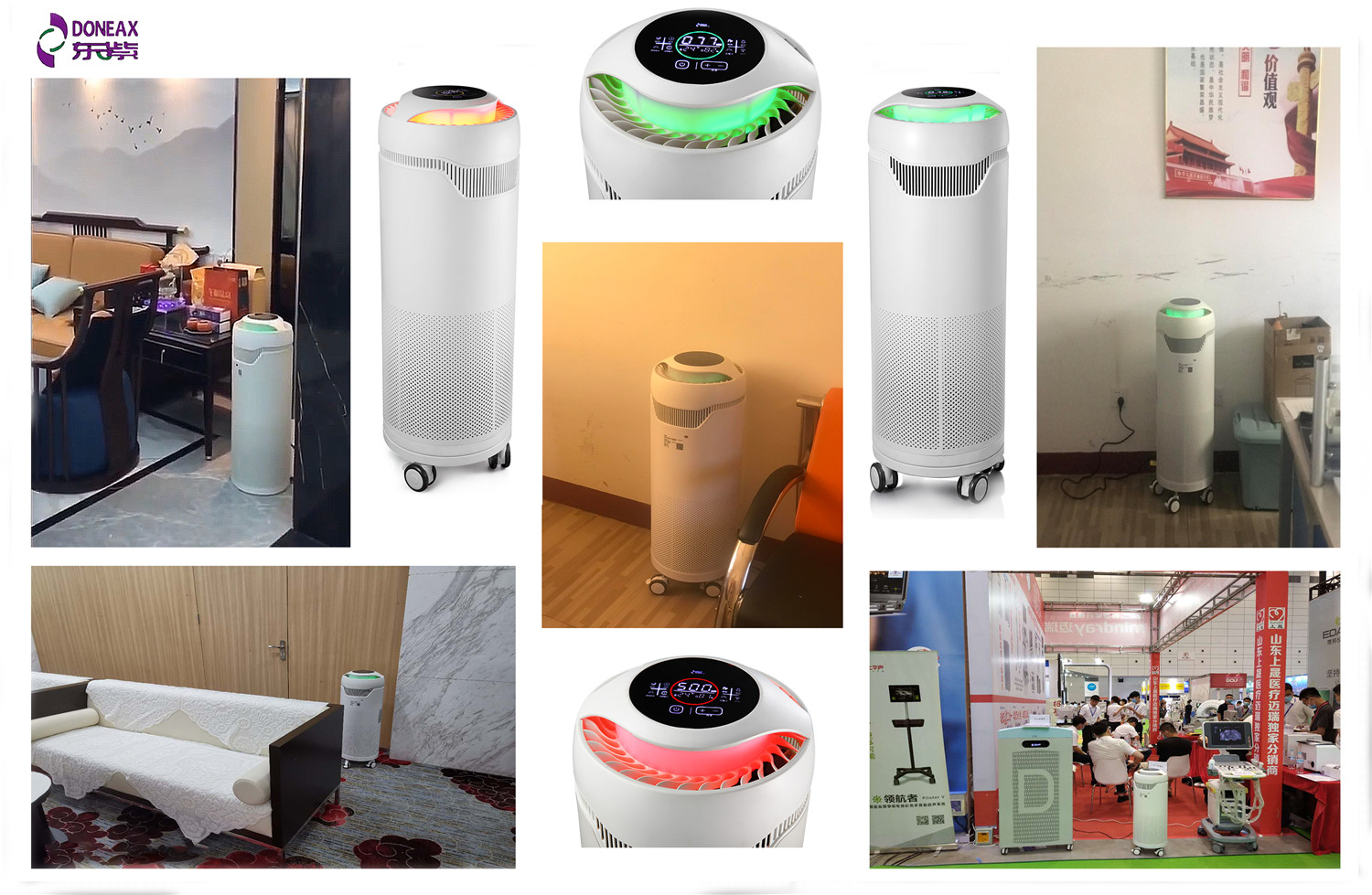 ---
Product detail pictures:


---
Related Product Guide:

---
We're committed to providing easy,time-saving and money-saving one-stop purchasing service of consumer for 2020 Latest Design Air Sterilizer Machine - Mobile Air Purifying Disinfector AirH-Y600H – doneax , The product will supply to all over the world, such as: Singapore, Benin, America, With the superior and exceptional service, we are well developed along with our customers. Expertise and know-how ensure that we are always enjoying the trust from our customers in our business activities. "Quality", "honesty" and "service" is our principle. Our loyalty and commitments remain respectfully at your service. Contact Us Today For further information, contact us now.